Have you ever thought about incorporating factors such as the environment, human rights and transparent corporate practices into your investments? If so, then responsible investing may be the perfect opportunity to use your money to achieve your financial goals while contributing to a more sustainable world.
Socially responsible investing has evolved over the years and has recently become more mainstream with adoption by major financial institutions, including the Canada Pension Plan. Below you'll find some answers to commonly asked questions.
What is responsible investing?

Responsible investing provides a framework for achieving better long-term investment returns and more sustainable markets by considering both an investor's financial needs and an investment's impact on society.

Is responsible investing a new investment strategy?

No. It has been used for many years, but it continues to evolve and gain acceptance. Today, environmental sustainability, social responsibility and good corporate governance (ESG) are widely recognized to have a profound impact on company's long-term financial performance.
Do you sacrifice performance by investing responsibly?

No. Numerous studies show that responsible investing generates returns comparable to the overall market. The Jantzi Social Index (JSI) tracks companies that pass a set of broadly-based environmental, social and governance criteria. The JSI is mapped against the S&P/TSX Composite Index and tracks with equal or better performance, as seen in the chart below.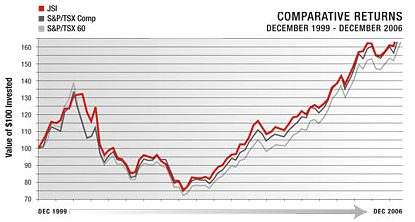 What is shareholder engagement?

Traditionally, responsible investing meant screening out companies based on social and environmental concerns. Today, investors partner with companies and suggest ways for them to become better using shareholder engagement. Common engagement topics are diversity, human rights, climate change, business practices, health and safety and toxic material management. The goal is to promote further positive action and to increase long-term shareholder value. Essentially, encouraging progressive companies to be their best.
What are the benefits to my portfolio?

Investors benefit from an investment process designed to produce superior investment returns over the long-term. In addition, analysis of environmental, social and governance factors provides an extra layer of risk management. Responsible investing also ensures that your money is invested in companies that follow progressive practices. That helps you contribute to the development of a more sustainable world.