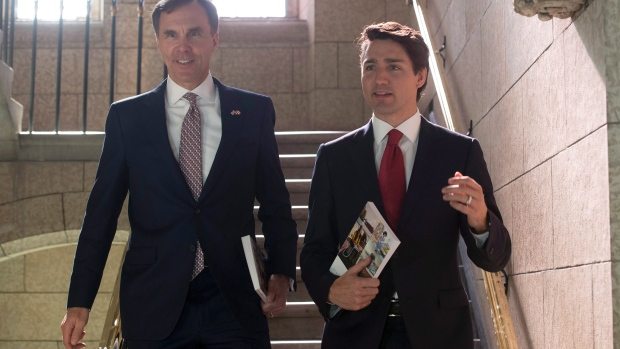 Finance Minister Bill Morneau delivered the Liberal Government's 2nd annual budget today called the "Innovation Budget". Here are the key budget highlights:
The biggest and most welcome news for investors is that no changes were made to the capital gains tax, stock options or dividends inclusion. There were fears that the Liberal government was going to increase the taxation of capital investment gains but they decided to hold off on any tax hikes for now.

No major new taxes.

2% tax increase on alcohol and tobacco.

Public transit tax credit is cancelled. Instead, the government will invest $20 billion over 11 years – to improve transit systems and encourage usage across Canada.

Cancellation of Canada Savings Bonds.
The budget follows through on promises to let parents take their Employment Insurance parental leave benefits over 18 months rather than 12, giving them the choice of taking the existing 55 per cent benefit rate over a year or 33 per cent over a year and a half. They also propose letting women start their maternity leave 12 weeks before their due dates rather than eight weeks prior.

On assistance for families, the government will be pledging $7 billion for affordable child care over 10 years to create up to 40,000 more spaces.

The government also plans to devote $6 billion over 10 years for home care and $5 billion over 10 years for mental health initiatives through individual deals with the provinces and territories.

$691.3 milions will be spent over five years to expand the caregiver benefit for Canadians supporting critically ill and injured family members.

Military spending will also be bumped at a cost of $8.5 billion in capital spending for nearly two decades down the road.

$395.5 millions over three years to expand the youth employment strategy.

$279.8 million over five years for the Temporary Foreign Workers Program.

$57.8 million for mental health for federal inmates.

$50 million over two years for teaching initiatives to help children learn to code.

$27.5 million for programs to help newcomers get foreign credentials.

The government is committing money for skills, innovation and jobs, with $594 million set aside for this year, rising to $1.4 billion by 2021-22.

The most expensive item of this budget is spending on infrastructure and social programs, including $20.1 billion promised over 11 years for public transit.

$3.6 million over three years to create an LGBTQ secretariat at the Privy Council Office to advance human rights

$523.9 million over five years to prevent tax evasion and improve compliance. The budget forecasts the government will make an additional $2.5 billion over five years from those measures to catch fraud and tax evaders.
The federal deficit is projected to be $28.5 billion for the 2017-18 year, compared to $23 billion this year – both higher than projected in the fall. The budget offers no timeframe of when the government will balance the books. The budget predicts the economy will grow slightly this year, keeping the ratio of federal debt to GDP fairly flat, at 31.6 per cent in this year compared to 31.5 per cent last year.
Sources: CTV News, BNN, CBC & Globe & Mail.