I walked by a bank the other day. In the window was a cheery poster of a boomer on the golf course. The headline asked if you were ready for retirement. A positive image, but so misleading.
The reality is that we're living longer. That means your savings will have to carry you for 20, 30, even 40 years. For many, not having enough money to play golf will be the least of our concerns.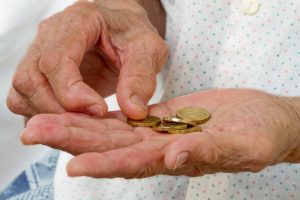 The outlook isn't sunny, but it can be. Before I give you the good news though, we need to face facts. From a report, released last year by the Broadbent Institute:
Half of Canadian couples between the ages of 55 and 64 have no employer pension.
Of those, less than 20% of middle-income families have enough saved to adequately supplement government benefits and pension plans.
A large percentage of working Canadians are heading into retirement without adequate savings to keep them out of poverty.
Income trends suggest the percentage of Canadian seniors living in poverty will increase in the coming years, especially for single women who already face a higher than average rate.
The poverty rate for seniors will climb at the same time as a sharply rising number of Canadians hit retirement age in the next two decades; more than 20 per cent of the population will be older than 65 within 10 years.
What's more, people over 40 years old are using credit to pay for exotic vacations, bigger homes and other non-essentials. Imagine being in your 40's and working on your debt instead of your retirement saving?
The good news is that you have the power to change how your future unfolds and you don't have to do it alone. See your financial advisor! Book regular planning meetings and take control over your future.
Did you know that 57% of Canadians don't have a financial advisor? People take their cars to specialists, but they don't think to bring their financial future to experts.  Mon Dieu!
Okay, okay, I'll spare you my rant. But do let me leave you with this – if you don't get expert help to spend efficiently, maximize your retirement savings and defer taxes – funding your golf hobby will be the least of your concerns. Retirement can be freeing or devastating. How you experience it, is up to you.