Price Per Unit, Net Invested, Book Value, Market Value, Net Asset Value, and Adjusted Cost Base are some of the terms you may come across on your statement. People commonly struggle at times to understand the different "values" that are listed on their portfolio statements. This terminology confusion makes it very difficult to look at your statement and determine how the portfolio is really doing.
Understanding how your portfolio, and the funds within the portfolio, is doing will allow you to make better investment decisions going forward. Let's investigate this a bit further.
Terminology
Price Per Unit, or Net Asset Value Per Unit (NAV): This will be listed for individual funds in your portfolio. The Price Per Unit refers to the dollar value of 1 individual unit of the fund in question.
Market Value: Market Value of a fund is simply its current value as of the statement date. If your statement was printed today with today's date, it would reflect yesterday's market close unit price. The market value of Jim's fund of 1,000 units of Fund XYZ with a unit price today of $10.00 NAV = $10,000.
Net Invested: This figure will appear for each fund you hold and for each account. Net Invested is simply the initial investment, plus all contributions, minus all withdrawals. For example: Jim initially invested $10,000 in Fund XYZ, subsequently made $1,000 in contributions, and then withdrew $500. Jim's Net Invested is therefore his Initial Investment ($10,000) + Subsequent Contribution ($1,000) – Withdrawals ($500) = Net Invested of $10,500.
Adjusted Cost Base (ACB) aka Book Value: Book Value (or ACB) is the initial investment, plus subsequent contributions, plus any reinvested distributions, minus any withdrawals. Using the above example, let's say that Jim also received $100 in interests/dividends distributions, which he opted to reinvest into XYZ. This Book Value (ACB) is thus his Initial Investment ($10,000) + Subsequent Contribution ($1,000) + Reinvested Distribution ($100) – Withdrawal ($500) = Book Value of $10,600.  This is important for tax purposes in a non-registered account.  When you sell these units, you will pay tax on the Market value minus the Book value.
Performance
One common misconception when looking at a statement is to gauge performance by simply taking the Market Value and subtracting Book Value (ACB). This DOES NOT equal performance, and we know this because we've already demonstrated above how Book Value differs from Net Invested. How you opt to receive distributions affects your Market Value and Book Cost (or ACB).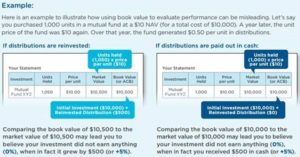 As you can see, when calculating the performance on a mutual fund investment it's important to consider your initial investment, as well as your subsequent contributions and withdrawals or what we call your Net Invested. Let us know if you have questions about your portfolio's return, as we can explain how your investments are performing, and help you to make the right decisions going forward.