Tell me about the team
Anthony Sabti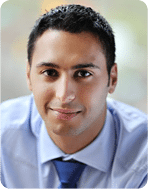 Anthony has a warm demeanor and a cool head. He's the kind of financial planner who catches a market's elaborate patterns and has the finesse to match its intricacies to the needs of the You First clients.
Anthony is a Certified Financial Planner extraordinaire. His thorough approach and impressive instincts have made him integral to the team from the moment he began in 2009.
Anthony holds a Bachelor of Business Administration Degree from Simon Fraser University, as well as the Certified Financial Planner – CFP Certification. Both complement his previous experience in financial services with the Royal Bank of Canada.
About Anthony 's passion for financial planning…
"I really enjoy the diverse roles of the position and the level of talent at You First. I go to work everyday knowing there is a team of people that always has the clients' best financial interests in mind."
More facts about Anthony…
Enjoys running, cycling, rollerblading, and swimming
Loves exploring the outdoors in Vancouver and surrounding areas.
Is a big hockey fan (go Canucks, please!)
Likes watching movies